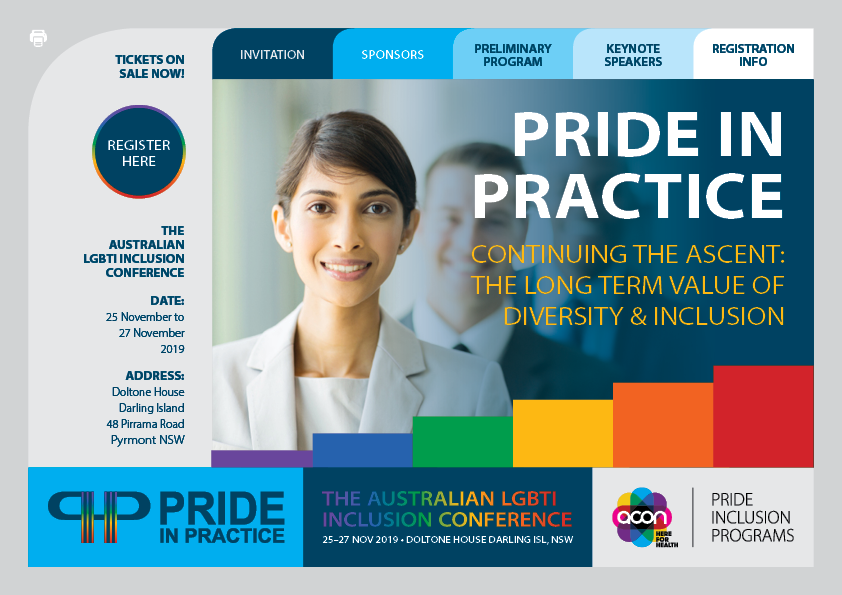 Pride in Practice 2019 Conference
22 November 2019
BUSINESS, SPORT AND HEALTH LEADERS GATHER FOR NATIONAL SUMMIT ON WORKPLACE INCLUSION OF DIVERSE SEXUALITIES AND GENDERS
Over 900 delegates from across Australia will gather in Sydney for the annual Pride in Practice Conference, the only national summit dedicated to advancing the inclusion of diverse sexualities and genders in workplaces, sporting organisations and the health and human services sectors.
Running over three days from 25-27 November at Dolton House, Darling Island in Pyrmont in Sydney, the conference focuses on the state of sexuality and gender diverse inclusion, both nationally and internationally and will bring together the private and public sector, tertiary education institutions, health and wellbeing providers, sporting organisations and not-for-profits.
Now in its ninth year, Pride in Practice is produced and curated by ACON's Pride Inclusion Programs, the national not-for-profit support program for the inclusion of diverse sexualities and genders.
Delegates will discuss progress over the last 12 months, issues arising within the workplace and explore leading practices and initiatives.
Over 50 sessions comprising workshops, plenaries, panel discussions and keynotes are featured across the three-day program.
Keynote sessions will be delivered by:
Jennifer Westacott, CEO of the Business Council of Australia and co-patron of Pride In Diversity
Alan Joyce, CEO of Qantas and co-patron of Pride In Diversity
Mike Ebeid, former CEO of SBS and co-patron of Pride In Health + Wellbeing
Kate Palmer, CEO of Sports Australia
Raelene Castle, CEO of Rugby Australia
Other CEOs and leaders from the likes of QBE, Salesforce, Minter Ellison, PwC, BHP, Jacobs, Austrade, Microsoft, Transdev and various Federal Government agencies, will also deliver sessions on issues impacting their workplaces.
ACON CEO Nicolas Parkhill said the conference provides an important opportunity for business leaders, employers, managers, HR professionals, administrators and service providers to come together and explores issues, ideas and best practice in inclusion.
"Fear of abuse or discrimination forces many people to hide their sexual orientation or gender identity when they go to work, participate in sport or access health and wellbeing services, leading in many cases poorer health outcomes.
"Practice is continuing to shift significantly in the inclusion space with employers across Australia, and we see that many are maintaining their commitment to strengthening inclusion efforts. By engaging in events such as Pride In Practice, they're strengthening their initiatives, knowledge and awareness," ACON CEO Nicolas Parkhill said.
"The opportunities provided this conference, along with the work done by our Pride Inclusion Programs, goes such a long way in helping create more diverse and productive environments, and make real and substantial change within Australian culture."
Dawn Hough, Director of Pride Inclusion Programs, added: "We know that in the area of inclusion of diverse sexualities and genders, there is still a tremendous amount of work to do. So, it's important that in all aspects of Australian working life that we have organisations comprising of leaders, advocates and allies within Australia's major business, governmental, sporting, health and educational institutions who know the importance of inclusion for their employees and customers.
"The overwhelming response and anticipation surrounding this conference is a testament to the incredible commitment that organisations and employers continue to demonstrate in the area of diversity and inclusion.
"It is through learning how to be allies and provide leadership on a daily basis, that organisations in all sectors can help to create and sustain a culture in Australia where diversity is not only accepted but is affirmed and celebrated."
Pride In Practice is made possible by the generous support of its sponsors: Australian Government, Transdev, Dell, PwC, Accenture, Doltone House, Thomson Reuters, NurseWatch, Microsoft and RMIT University.
The Pride In Practice Conference is on 25-27 November at Dolton House, Darling Island in Pymont. Conference is now sold out. For more information about the conference, go to prideinpractice.com.au.
ABOUT PRIDE INCLUSION PROGRAM
Pride Inclusion Programs is the national not-for-profit program that supports employers, sporting organisations and service providers with all aspects of inclusion of diverse sexualities and genders. Pride Inclusion Programs includes Pride in Diversity, Pride in Sport and Pride in Health+Wellbeing.
ABOUT ACON
ACON is Australia's largest health organisation specialising in community, inclusion and HIV responses for people of diverse sexualities and genders. Established in 1985, ACON works to create opportunities for people in sexuality and gender diverse communities to live their healthiest lives.
Media enquiries: David Alexander, ACON Media and Communications
E: dalexander@acon.org.au   T: +61 (02) 9206 2044   M: +61 (0)428 477 042