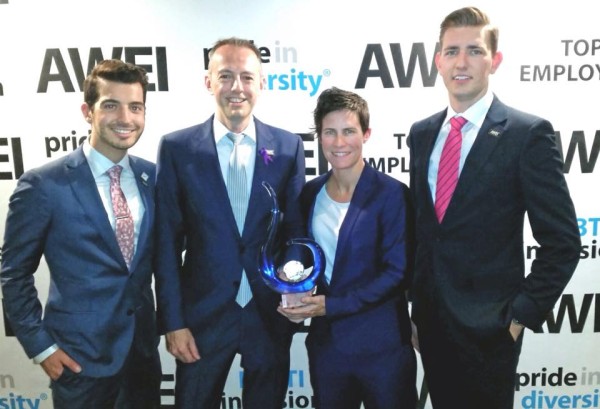 Australia's Top 20 Employers for LGBTI Employees Announced
PwC has been named Australia's Employer of the Year for 2015, the first time an employer has picked up the coveted title twice, at a special event recognising workplace support for lesbian, gay, bisexual, transgender and intersex (LGBTI) people.
The Australian arm of the global professional services firm topped a list of 20 organisations which were recognised today at a special luncheon in Sydney organised by Pride in Diversity, Australia's first and only national employer support program for the inclusion of LGBTI people in the workplace.
The awards were determined using Pride In Diversity's Australian Workplace Equality Index (AWEI), a free service provided annually by Pride In Diversity that evaluates and benchmarks LGBTI inclusiveness in Australian workplaces.
Other awards at the luncheon included: LGBTI Employee Network of the Year (Westpac GLOBAL); Highest Ranking University (Curtin University); Highest Ranking Public Sector Organisation (Australian Federal Police & Department of Defence); and Achievement Award for Most Improved (HSBC).
ANZ won an Innovation Award for their GayTM's, Key Assets won Small Employer Award and Children & Young People's Mental Health picked up the Regional Employer Award. Australian Red Cross Blood Collection was also named Highest Ranking Not-for-Profit/Charity.
This year individuals from Lend Lease (Jason Burubu), Deakin University (Roxanne/Bobby J Thomson), Westpac Group (Brad Cooper and Kristina Bennett) and Curtin University (Maz Rahman) were acknowledged for their significant contribution to LGBTI workplace inclusion initiatives.
Presenting the Awards at the Ceremony, the Hon Michael Kirby AC, said, "I applaud all the organisations here today, and indeed individuals who have played critical roles in their ongoing commitment and support of their LGBTI employees and colleagues.
"While many employees feel comfortable to be themselves at work, let's not lose sight of the fact that many more do not. Where we stand today is still not good enough. The more inclusive your workplace culture, the more likely people will be to engage, respect and contribute to the organisation they are working for."
Pride in Diversity Director Dawn Hough says more organisations are engaging with the AWEI. "This is the fifth year of the AWEI. The number of employers participating has increased by 152% from Year 1 and we now have over 9000 employees participating in the employee survey. The focus on LGBTI inclusion initiatives has increased substantially. We are really looking at our Top 20 Employers now as examples of good practice. There is very little difference point-wise between some of these employers, in some cases, as little as 1 point between leaderboard positions."
Approximately 450 people attended the sold-out event at the Westin in Sydney on May 15, MC'd by Bob Downe. Guests included Pride In Diversity patron the Hon. Michael Kirby, President of the Australian Human Rights Commission, Gillian Triggs, Human Rights Commissioner Tim Wilson and CEO's and Leaders from some of Australia's largest commercial and public sector organisations. On the back of the announcement that Pride in Diversity will also be developing an index to address homophobia in sports, representatives from Bingham Cup, Football Federation Australia, Cricket Australia, Australian Sports Commission, Australian Rugby Union, National Rugby League and AFL were also present.
"Pride in Diversity congratulates all the organisations recognised today on their significant achievement and for showing great leadership in the area of diversity and inclusion," Ms Hough says.
The 2015 Top 20 Australian employers for LGBTI people are:
 1.   PwC2.  Westpac Group3.  Curtin University4.  Commonwealth Bank of Australia5.  Goldman Sachs

6. ANZ

7.   Macquarie Bank

8.  Lend Lease

9.  National Australia Bank

10. The University of WA

11. IBM12. EY13. Australian Red Cross Blood Service=14. Accenture= 14. Allens

16. UnitingCare Ageing NSW.ACT

=17. Australian Federal Police

=17. Department of Defence

19. Herbert Smith Freehills

20. Telstra
Pride In Diversity is a program of ACON, NSW's leading HIV and LGBTI health organisation.
*LGBTI – Lesbian, Gay, Bisexual, Transgender, Intersex
ENDS 
For more info please contact:
Dawn Hough, Pride In Diversity Director
T: (02) 9206 2136     M: 0409 887 212     E: dawn.hough@prideindiversity.com.au
Media Enquiries:
Andrew Hamadanian, ACON Media & Communication Officer
E: ahamadanian@acon.org.au   T: (02) 9206 2044  M: 0419 555 768