Sapphire Event - Beyond the 'L': The Differences in Workplace Experiences of LGBTQ Women

Sapphire Event – Beyond the 'L': The Differences in Workplace Experiences of LGBTQ Women
May 10 @ 5:30 pm

-

8:30 pm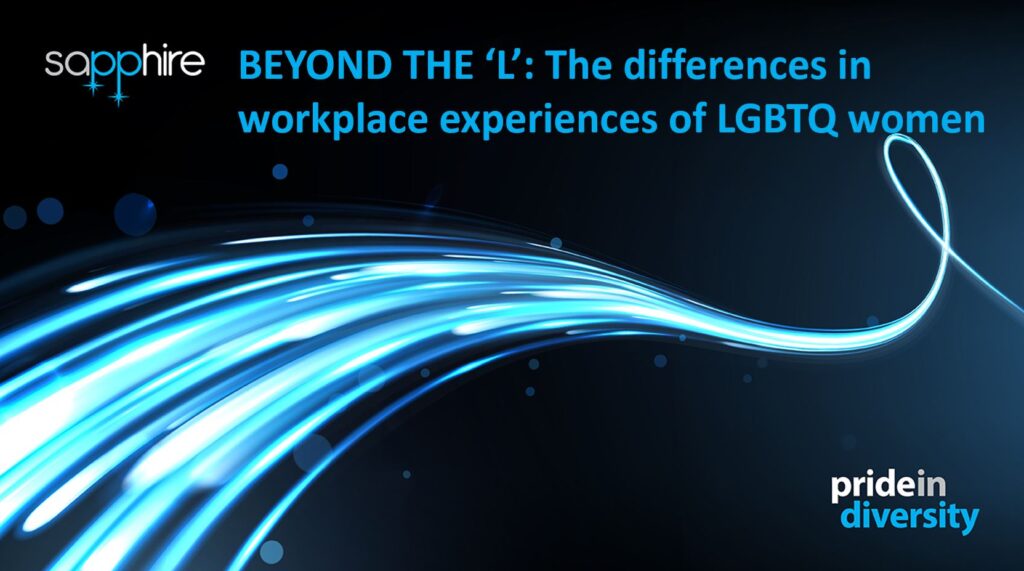 Tuesday 10 May, 5:30pm for 6pm start
KPMG, 1 Constitution Avenue, Level 9, Canberra, ACT 2601 + Livestreamed
Sapphire is an initiative of Pride in Diversity that was developed to generate greater awareness of the unique challenges faced by Lesbian, Gay, Bisexual, Transgender and Queer (LGBTQ) people who identify or may be perceived as women in the workplace. This includes cisgender women, transgender women, and non-binary people who may be perceived as female or feminine (regardless of their gender identities) and therefore may face many of the same challenges.
This initiative seeks to engage with and provide this cohort with an opportunity to openly express and discuss some of these challenges in a safe, non-confrontational and professional environment, with the aim of creating a more inclusive workplace – one in which LGBTQ women and non-binary people can freely be themselves, and one in which there is a greater visibility of "out" role models.
Each year in Pride in Diversity's AWEI employee survey, we see that LGBTQ women are less likely to be out than LGBTQ men. But that's not the whole story. When we break down the cohort and examine the difference in responses from lesbian and gay people who are or may be perceived as women to bi, ace and trans people who are or may be perceived as women we can see that there is a very different experience being had.
This year, Sapphire will be hearing from those people who are often invisible in the discussion around inclusion for LGBTQ people who are or may be perceived as women, and how taking a one-size-fits-all approach will continue to exclude a lot of people.
Panellists:
Yenn Purkis (they/them)
Yenn Purkis is an Autistic, non-binary and Asexual advocate based in Canberra. Yenn is currently the author of ten published books, including The Autistic Trans Guide to Life and Women on the Spectrum. Yenn has been giving presentations for over twenty years, including one on resilience and disability for TEDx Canberra in 2013. Yenn runs a support group for Autistic women and gender divergent folks and also works in the public service. Yenn's pronouns are they / them.
Rachel Rowe (she/her)
Strategy and Consulting Manager at Accenture & Pride At Accenture ANZ co-lead
Rachel is a proud out pansexual woman. She is a manager at Accenture, where she started her career. She also co-leads Accenture's pride inclusion initiatives in ANZ. In her spare time, Rachel loves reading sci fi, started up mountain biking and plays piano. She is passionate about inclusion and people bringing their true selves to work.
Michelle Pallas (she/her)
Director in KPMG Canberra's Technology Risk practice & Convenor for the Pride@KPMG Steering Committee.
Michelle is an out and visible LGBTQ+ leader at KPMG and actively drives inclusion through allyship, sponsorship, coaching and leadership. Michelle is a single mum, and self-professed super nerd and space nut, as she is passionate about everything science and mathematics.
PLEASE NOTE: Those attending in person for this event MUST be fully vaccinated against Covid and will be required to provide evidence as a condition of entry.