Pride in Sport Index & Awards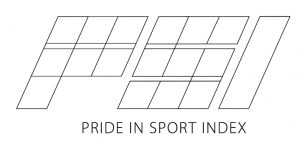 Pride in Sport Index
The Pride in Sport Index is an initiative of the Australian Human Rights Commission and the Australian Sports Commission and a legacy of the Bingham Cup, Sydney.  Following the release of the Out on the Fields study in May 2015, the largest international study examining homophobia in sport, these organisations commissioned Pride in Diversity to develop a Pride in Sport Index.
The Pride in Sport Index™ (PSI) is the first and only benchmarking instrument specifically designed to assess the inclusion of Lesbian, Gay, Bisexual, Transgender, Intersex (LGBTI) people within Australian sport and sporting organisations. Participating in the index will allow Australian sporting organisations to not only assess their own practice, but determine that which constitutes good practice, along with the ability to benchmark their own initiatives against an external measure and other sporting organisations.
An advisory group has been established to assist Pride in Diversity in the development of the Pride in Sport Index.  The advisory group includes; the National Rugby League (NRL), the Australian Football League (AFL), the Australian Rugby Union (ARU), Football Federation Australia (FFA), Cricket Australia, Swimming Australia, Water Polo Australia, Basketball Australia and Golf Australia.
---
Pride in Sport 2018 Benchmarking Submission Documents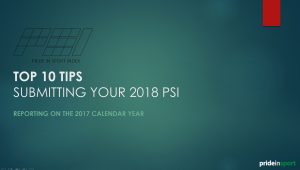 Click to view or right click to download the document
2018 Pride in Sport Index Submission Documents
2018  Individual Award Nominations
Pride in Sport Submission Close Dates:
5pm AEDT Friday 16th March 2018 for hand delivery, mail or courier
Midnight AEDT Friday 16th March 2018 for email URL or dropbox link
Copies can be sent via a link from dropbox or as a hard copy. Individual emails with file attachments will not be accepted.
Large file dropbox links (no attachments) can be sent:
Hard copy submissions can be hand delivered or couriered/posted to:
Pride in Sport Index Submission
Attention: Dawn Hough
ACON's Pride Inclusion Programs
414 Elizabeth Street
Surry Hills NSW 2010
NB: Submissions must be receipted by a member of the Pride in Sport team prior to submission close. Please keep a receipt of postage or courier details to validate date/time. Late submissions without a validation date/time sent will not be accepted.
PSI DOCUMENT VERSION
| | | |
| --- | --- | --- |
| Version | Date | Changes |
| 1.0 | 11/8/2017 | Released document |
| 1.1 | 28/9/2017 | Update to the sporting organisation describes: now includes Amateur Club and University Sport, page 1. |
---
2018 Pride in Sport Survey
Unique survey URLs are now available for those wishing to participate in the 2018 Pride in Sport optional employee survey.  Please note, only those employers participating in the full Pride in Sport Index are able to participate in the survey.
Should you wish to register for the survey:
Please click here here to complete the request and register details.
You will receive:
A unique URL for your company
For those employers participating in the survey, in addition to your Pride in Sport results, you will receive:
High level analysis of your survey results charting the results of all responses to all questions.
---
Keep Up to Date
 Pride in Sport
Subscribe for latest news on Pride In Sport.
Pride in Sport Index
Subscribe for latest news on Pride In Sport.
---
Pride in Sport 2017 Results
"For the first time, the Awards acknowledged Australian Sporting Organisations for LGBTI inclusion within Australian Sport. Ten sporting organisations participated in the inaugural PSI, a world first national benchmarking instrument. Taking out the PSI Organisation of the Year, AFL's Inclusion and Social Policy General Manager, Tanya Hosch said: "The AFL is honoured to be recognised as a leader for LGBTI inclusion in sport."
"The AFL was delighted to contribute to the implementation of the PSI. The AFL found the benchmarking exercise extremely valuable as a means to review and reflect on its LGBTI inclusion policies and practices across the Australian Football industry."
To view the full Press Release of the 2017 Results, please click here.
To view the full results of the 2017 Australian LGBTI Inclusion Awards, including the Pride in Sport Index results, please download a copy of the 2017 Awards Results Publication.
For more information on the Pride in Sport Index, please contact: