About Train the LGBTI Trainer
LGBTI Awareness Training is complex.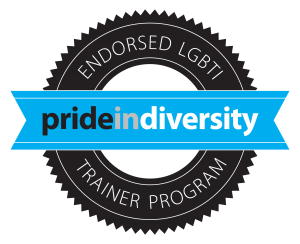 Being a seasoned trainer, having attended LGBTI Awareness training or identifying as an LGBTI person does not guarantee success as a trainer in this area.
The Pride in Diversity Endorsed LGBTI Trainer Program is highly specialised and a unique development opportunity for those wishing to acquire or facilitate LGBTI awareness or inclusion training within Pride in Diversity (PID) member organisations.
The LGBTI Trainer explores in depth the content that Pride in Diversity delivers in LGBTI Awareness Sessions, Ally Sessions and customised programs.
The program provides theoretical papers, publications, videos, case studies and difficult classroom interactions to expose trainers to a level of understanding that is typically only achieved by training this content day in, day out over many years across many different audiences, sectors and industries. It is designed to not only challenge trainers, but to engage them in deep conversations and critical thinking around the theoretical aspects of the program.
In addition, and beyond the three day training itself, Endorsed Trainers join an Alumni group of Endorsed Trainers who for the period of their endorsed status will receive ongoing support from Pride in Diversity. Endorsed Trainers will receive our Endorsed Trainer Newsletter, be invited to Endorsed Trainer online conversations, be given access to Endorsed Trainer videos to support their sessions and be encouraged to attend a special breakout session for Endorsed Trainers at the Pride in Practice Conference, if attending.
This program is offered to Pride in Diversity Member Organisations. To read more about the objectives, the prerequisites and program costs please download a copy of The LGBTI Trainer Brochure.
Current Train the Trainer Dates*
SYDNEY (REGISTRATIONS CLOSED): Hosted at ACON offices, 414 Elizabeth Street, Surry Hills, NSW 2010
11 July, 18 July & 25 July, 9:15am-4:45pm
SYDNEY: Hosted at ACON offices, 414 Elizabeth Street, Surry Hills, NSW 2010
11 October, 18 October & 25 July, 9:00am-5:00pm
BRISBANE: Hosted at Macquarie, 825 Ann Street, Brisbane, 4000
3 August, 10 August, 17 August 9:15am-4:45pm
*NB: The Train the Trainer courses are kindly hosted by the above-mentioned organisations, however registration is open to any and all PID Member organisations.
For more information please contact the Pride in Diversity office on 02 9206 2139 or email Shai Feniger on sfeniger@acon.org.au