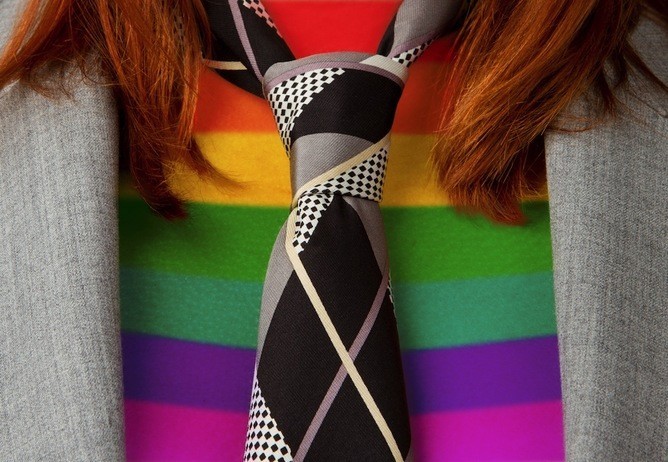 April 26: Do we really need a Lesbian Visibility Day?
April 26 is Lesbian Visibility Day. Christine Forster, Ambassador for Pride in Diversity's Sapphire program, opens this discussion talking about the lack of out female role models in our workplaces. By Pride Inclusion Programs Director Dawn Hough.
"Over the past few years I've been asked many times to name positive, out lesbian role models. Often I've joked in response: Ellen DeGeneres and…Ellen DeGeneres!
"In Australia we can now proudly add our national sweetheart Magda to the list, but the reality is, in our patriarchal world, the gay men have made it to public acceptance and prominence way ahead of us girls. And it's been the same in business. Compare the relative profiles of Qantas CEO Alan Joyce and Business Council of Australia chief executive Jennifer Westacott. Sadly, it was no surprise in late 2016 when The Australian Financial Review's BOSS magazine and accountancy firm Deloitte put together a list of top 50 LGBTI business leaders, and only 14 of them were women.
"The glass ceiling exists and it appears to be an even more insurmountable barrier for women who identify as lesbian. And yet these are the women who most need to know they are not alone in their workplaces. They are telling us loud and clear that knowing there are other lesbian women in their organisations gives them the greatest sense of inclusion and engagement. It's a simple thing, but promoting visibility helps breaks down stereotypes, builds respect and provides genuine support. That's good for your people, and what's good for your people is good for business." – Christine Forster, Pride in Diversity Sapphire Ambassador
April 26 is Lesbian Visibility Day. With workplaces active in LGBTI inclusion already promoting several LGBTI days of significance throughout the year, many may be tempted to give the lesser known dates that focus on one particular identity a miss … but should we?
Undoubtedly many workplaces will question the need to communicate Lesbian Visibility Day out to their employees and perhaps even question the need for it. But before you dismiss the idea altogether, it may be useful to understand the message of this day within the context of the workplace.
Lesbian Visibility Day is an opportunity to knock down some of the stereotypes, help reduce some of the stigma and give a voice to our Lesbian workmates and colleagues. Something that is critical, as you will see, to an inclusive culture.
 Why is this important?
According to the latest AWEI Survey (2018) [1] a significant number of lesbian women within organisations active in LGBTI inclusion still choose to consciously hide their sexuality and a core part of who they are because at this point in time, they are just not comfortable enough to be themselves at work (40%), they don't want to be labelled or the target of innuendo and jokes (28%) or they are just unsure of the repercussions (21.43%).
The impact of this is a significant lack of out lesbian role models.
The survey found that of all the sexualities, it was lesbian women that most strongly aligned OUT role models to their sense of inclusion within the organisation (90%); 87.7% of the respondents also stating that an LGBTI inclusive culture was important to their level of engagement.
Backtrack on that for a moment.
·      There are very few out lesbian role models
·      OUT role models are aligned to a sense of inclusion
·      An inclusive culture is important to engagement
It's not difficult to see the benefit of what we are talking about here.
Surprisingly, according to these respondents, the most sought after attributes of out role models were not along the lines of technical expertise or an outstanding career trajectory, rather their willingness to be open about their sexuality (67%) and willingness to support others (76%).
So if there are not many out role models for lesbian women and this is what makes them feel that their organisation is inclusive, what is the key driver for those women who choose to come out at work, regardless?
In this respect, there's not a lot of difference between lesbian women and other sexualities.  The key drivers it appears for all sexualities are personal authenticity at work (lesbians: 66.1%; bisexual women 55.4%; gay men 76.4%; bisexual men 59.6%); the freedom to talk about their life/partner/community (lesbians 64.1%; gay men 60.9%) and expending less energy censoring what they say (bisexual women 54.6%; bisexual men 52.1%).
While 21.8% of lesbian women claimed that being out had had a positive impact on their career (22% lower than gay men) and 53.9% said they were extremely comfortable being out at work (2% less than gay men) there are still challenges.
Of all sexualities, lesbians reported the highest rates of unwanted negative commentary, innuendo and jokes (34; 4% higher than gay men and 19% higher on average than bisexual men and women) in addition to the highest rates of more serious bullying/harassment (7%; 15% higher than gay men and 33% more on average than bisexual men and women).
Lesbian women who were the target of bullying/harassment within the workplace identified other people on their floor (41.5%), colleagues (39.6%) and their immediate manager (32.08%) as the top three culprits. 20.75% of lesbian women who were bullied/harassed were currently looking for other roles as a direct result of this bullying.
While It is clear that we still have a long way to go in terms LGBTI workplace inclusion, it appears that when it comes to sexuality, the road is even longer for those who identify as lesbian.
We need to break down the barriers. We need more training and zero tolerance in terms of homophobic (and transphobic) behaviours and we need to create an environment where more lesbian women feel safe enough to come out at work, to be a role model, to help support other young women entering the workforce through their openness in terms of their sexuality and their willingness to support.
Let the voices of your Lesbian women be heard this Lesbian Visibility Day. It could make a world of difference.
[1] The Australian Workplace Equality Index (AWEI) Survey is an optional component of the LGBTI benchmarking instrument used to assess, benchmark and shift practice in LGBTI Inclusion within Australia. This year the survey returned 23,120 responses comprising 1,539 same sex-attracted women; 781 identifying exclusively as lesbian. Survey results will be released mid-2018 buy ACON's Pride in Diversity Program.
About Pride in Diversity's Sapphire Initiative
Sapphire is an initiative of Pride in Diversity that was developed to generate greater awareness of the unique challenges faced by lesbian, bisexual, transgender and intersex (LBTIQ) women in the workplace. While Sapphire provides members who choose to participate with an opportunity to network, role model and mentor; the core focus of the program is to engage with LBTIQ women across all sectors to fully understand the organisational factors that impact disclosure and inclusivity within organisations active in LGBTI workplace inclusion. This will not only allow Pride in Diversity to contribute to the growing body of research on the invisibility of LBTI women but will also allow us to utilise the collective understanding to promote a more inclusive workplace culture.
If your employer is a member of Pride in Diversity and you would like to sign up to the Sapphire newsletter: click here
Dawn Hough is Director of ACON's Pride Inclusion Programs, employer support for all aspects of LGBTI inclusion across the workplace (Pride in Diversity), sport (Pride in Sport) and Health & Wellbeing Service Provision (Pride in Health + Wellbeing).